Meditation Challenge – contact me for dates or to facilitate a 6 week challenge for you.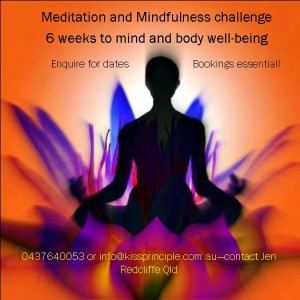 Level 1 – 6 weeks to wellness – a chance to befriend your mind and body.
This course will take us back to basics of mindfulness meditation. It is suitable for people new to meditation and mindfulness practices and for people familiar with mindfulness who would like a group to join for short term support. We will cover the basics of meditation, mindfulness in meditation and in daily life, compassion and kindness to self and others. We will do this through exploring presence of breath, body, emotions/mood, thoughts, and the world around us. Each evening will have you experience meditation practice and there will be time for answering questions and sharing your experience if you choose to share. This will not be a therapy group and is a structured mindfulness based training that can be useful to anyone of any cultural and spiritual belief system: If you practice other methods of meditation (or prayer) this training is likely to enhance your experience.
If you are interested in attending I ask that you commit to attending all 6 sessions. I will only be opening up 6 spaces for this course as room space is limited. To ensure your commitment I will ask for payment in advance of $90 to cover the entire 6 week course. This is not refundable through non attendance once the course has started to ensure your commitment to your place.
For those who complete the course I will be offering a day of (mostly) silent mindfulness . This will enable you to experience a greater depth of presence and practice during meditation and other activities. Most people who attend the silent retreat days find the day both challenging and rewarding. This extra day will cost $50.00 per head and you will need to bring your own healthy lunch. More information will be provided at the end of the 6 week course. I highly recommend this experience to help integrate your 6 weeks of training.
I will provide herbal teas and non-caffeinated drinks at all sessions. Cushions are available. You are invited to bring your own cushion or meditation stool if you prefer. I will have a free CD available (20 minutes of mindfulness of breath practice) for you should you require a recorded guided practice to use when at home.
Prices subject to change.
For more information contact Jen