Self-Awareness and internal honesty are powerfully connected. An honest appraisal of who we think we are, and what we bring to the world is a great learning experience. With awareness of how we treat ourselves and how we treat others we can notice the impact we have on our world and make any worthy adjustments to our thoughts and behaviour. Understanding the difference between judgment and discernment, and noticing where we employ either trait takes honesty and courage.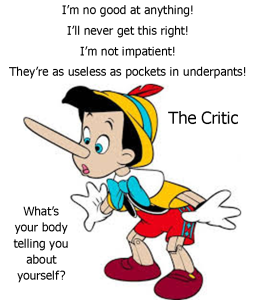 Judgment of self (and others) promotes defensive and offensive reactions. Discernment promotes a mind open to options and choice-fullness; opportunity for responsive change. The difference between judgment and discernment is loving kindness and compassion. Judgment is aggressive, discernment is assertive. If discernment replaces judgment we are more likely to feel the freedom of honest self appraisal and more proactive self expression. We are more open to expanding on our traits that promote growth, leaving behind that which makes us contract.
When there is room for honesty and discernment within there is greater opportunity to stop relying on other people's opinions and approval. We can choose more appropriate expectations of self inwardly and externally of other people and events. Whatever we are creating and experiencing out in the world is a reflection of how we feel about ourselves. Look and feel inwards for the truth, practice unlimited friendliness to what is there, and check out with curiosity if you would like to experience something new and different.
How can we recognise judgment and how can we cultivate internal honesty? Questioning is a very useful tool; questioning without attachment to an answer. Asking a specific question creates a powerful intention towards an outcome. As you frame an initial question allow other questions to arise, perhaps becoming more specific and focused, zooming in on finer points. The questions arise out of your expanding awareness. The following questions are some suggestions around this topic of exploring judgment and criticism. Remember to hold an attitude of curiosity and gentleness as you contemplate and process the questions. You may like to hold a specific experience in mind as you ask these questions:
Criticism and judgment about yourself:
How do I recognise self criticism and judgment? (Intention of topic)
What is my internal tone of voice?
Am I chastising myself?
What language am I using?
How would I feel if someone else spoke to me in this tone, with these words?
What body sensations do I notice when I am judging myself?
How do I feel when I treat myself in this manner?
Do I feel expanded and open, or do I feel contracted and shut down?
What things do I do well that expand me and open me to life?
Criticism and judgment about other people:
Am I being critical or discerning?(Intention of topic)
What impact is my tone and language having on the other person?
Am I judging the person or the behaviour?
Am I making the other person wrong so that I can be right?
Do I fear them because I don't understand their differences?
How are we similar?
I wonder what it's like for them…
What body sensations do I notice when I am criticising someone?
How would I feel if someone spoke to me the same way?
Is there another way to do this?
What does this person do well?
Pause after you ask your question and feel the sensations and emotions as they arise, still sitting with curiosity and gentleness. Answers are not always available in words. There is amazing wisdom in our body. The more we practice mindfulness in meditation the more we understand our unique internal language. As this aspect of our inner world develops, we can more readily tune in to the reality of our external experience.
The following meditative exercises can be a part of your meditation practice. You could incorporate the questions listed above into your meditation. You can also use the questions as well as mindful being throughout your day, holding them lightly, to be aware of your internal process. You can combine these meditations into one meditation practice, or do them separately as you see fit. Sit comfortably in a position that allows you to be restful and alert. You can close your eyes after reading the guide. (If using the questions, open your eyes to read each new question.) Allow your attention to settle on your breath for a few minutes. Then allow the intention to arise to be aware of how and when judgment and criticism are present.
Mindful exercise 1:
Allowing thoughts to arise about opinions you hold about yourself see if you can catch yourself when in judgment mode. As you do, bring your attention inward and notice how your body feels, notice your mood and emotions. Perhaps thoughts arise connected to this process. Notice them. Feel what is present and sit with the sensations allowing them to be, without judgment of the judgment. Be curious. Then expand your awareness to times you may judge others. Once again notice how your body feels, notice your mood and emotions. Feel what is present and sit with it allowing it to be, without judging yourself. Just notice through the sentient experience of what arises. Return your attention the breath…
Finish with Mindful exercise 3…
Mindful exercise 2:
Bring to mind a situation where you experience judgment from another person. Bring your attention to your body sensations, mood and emotional state. Notice any thoughts that arise. Notice how this judgment impacts you and stay with the sensations with an attitude of curiosity and gentlness. Notice any urges to react to this judgment, either internally or through outward expression. As you notice the urge to react, tune in to your body and emotions noticing the feeling that goes with reaction. Sit with the sensations. Return your attention to the breath…
Finish with Mindful exercise 3…
Mindful exercise 3:
Imagine feeling arms of caring kindness wrapping around you, accepting you as you are, gently loving you for your internal honesty. Know this caring embrace comes from the infinite aspect of you, the part of you that is pure awareness. When you feel this warmth and caring for yourself, you may choose to expand this feeling of kindness out to other people you know who are similarly challenged. Bring your attention back to kindness to yourself. Allow your attention to settle on the breath…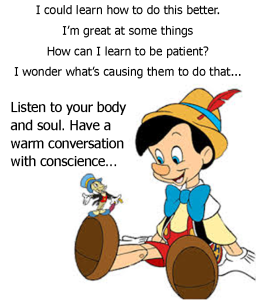 Mindfully engaging in our inner world, external reality, and how we contact life, we can observe our defences and offences. We expand our awareness of the impact we have on our own well-being as well as the well being of our external world when judgment is present. We can make choices about how we want to be treated and how we choose to treat other people and our environment. Looking deeply within I know I have the seeds of every trait and emotion. Looking honestly I own the traits I express that cause harm to myself and others. I see my prejudices, my aggrandisement, my harsh inner critic, my bad choices, and I own it all. It took courage, honesty and kindness to transform my judgments of self and others to discernment and acceptance. It's an ongoing process.
When I transform my judgment to discernment and make responsive choices, my life takes on a whole new meaning. My sense of peace, purposefulness, and empowerment grows exponentially. My sense of caring in general has expanded, my priorities often shift, I am less concerned with the opinions others have of me, and more concerned with the origins of others opinions. Do I have some responsibility in those origins? Sometimes I do. I do my utmost to remain mindful of the impact I have on myself and other people. When in doubt I ask myself "Is this coming from love or fear?" and then tune in to my body for an answer. I am more courageous and responsible in meeting my needs and following my dreams and desires. AND sometimes I get it wrong. I choose to be honest with myself about my opinions, motivations, aspirations, feelings, and actions. More and more, when appropriate, I share my honesty. Mostly these objects of awareness are just for my internal process. The greatest way I can share my internal process is through my way of being. My life is rich with learning, conscious and unconscious process, and love.
May your journey transform with honesty and discernment.
In love and light
Note: When meditating on my inner processes, I like to have a journal beside me to write about my experiences after the meditation. I allow myself time to sit with my experience first.